Wednesday, December 30, 2015
Jaa
Hvnt written here in a while.. Havent written anything much fr a few months. Haha. I keep having this feeling that i shouldnt eventho i want to. But im probably just depressed now. Its been a nice few months of not being able to be depressed.
I suppose nothing is ever a big deal so whatever..
Hmm i stopped at kayochin. AFA was next major event. It was a nice event. Frm my FB album i mustve really enjoyed it. Did lol autocos of kingdoms of middle earth. Default zura (oh yes, met Sansin. Shining moment). Managed to complete relena for day 3, even found zechs n noin, n some of G's friends. That was nice.
I really dont want to decipher if my feelings about activities have changed. I doubt what i think now about whatever i feel has any actual truth.
Ah. Zero Antiquity gathering this year was interesting. We decided early on to revive zeroan gakuen. Bought skirt cloth from TB. Decide to add magic element in, so somehow all hv horns. We are some endangered species academy lol. Kai made horns for heichou. I made her skirt. N our badges (i frgot mine on the day wtf), n student ID passes (yuui brought her instax printer for us to complete it with pic). Nearing date, we decided to try levitating photomanipulation so drag stools to shoot. Use tripod for camera. Felt best about selfshoot this time. We didnt take many shots or scenes but idk man, im satisfied. Haha. Especially when thinking abt amount of editing to do for each pic. Sat down eat drink exchange gift (more like me n aki receiving belated birthday gifts). Me like the gifts they are awesome.
Went to cosfest xmas afterwards. Many backdrops to take pic at. Can i use other ppls photo n edit? I had to take out watermark.... Myb ill ask the photog when i feel up to it OTL
Oh ya, during shoot got buggers take our pic without asking. Im like YO. YOU CAN JUST ASK US RIGHT. blabla idk what i say. Standard response from bugger: avoid eye contact n walk off. _|_
I bring sai's fiqh book haha.
The event had nice ideas but please execute better if theres next time lol. Stage performance timing was trainwreck. And im sad to see the costumes on display were not mounted on proportionally. Wonder how much they lost.
Original Photos by Tan Lum Hoe


Time Recorded: 1:22 AM
※ ※ ※ ※ ※ ※ ※ ※ ※ ※ ※ ※ ※ ※ ※ ※ ※
※Gate1: Enter
Nobody but myself is expected to come here.
All posts are cosplay related, hence not to be taken too seriously ;D
♦Bokura wa Ima no Naka de♦


※ Gate2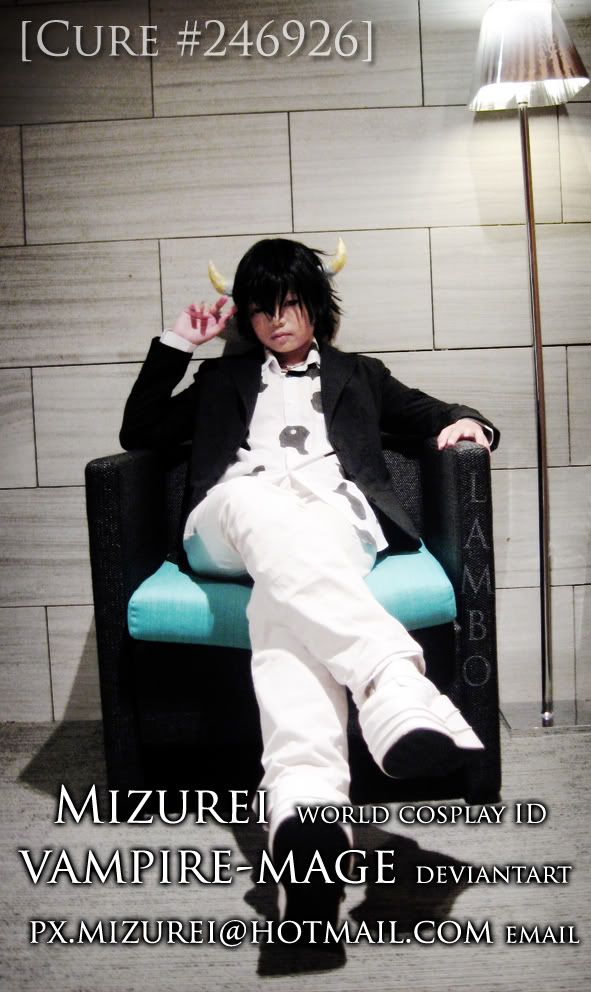 Mizurei is:
-short
-heavy
-ugly
-annoying
-sees light and darkness everywhere


※ Gate3
[☆]Ongoing Projects[☆]
♦ Miaka
♦ Hixar Fermi
♦ Alice Royal Suit
♦ Sugata
♦ Kagura
[★]Completed Projects[★]
[2007]
♦ Haku
[2008]
♦ Ema Skye
♦ Trucy Gramarye*
[2009]
♦ Meirin
♦ Natsuo
♦ Lucy*
♦ Void
♦ Belphegor
♦ Cheshire Cat
♦ Alice*
[2010]
♦ Lambo 15yrs old
♦ Fergus
♦ Cagalli GSD
♦ The Arrow*
♦ Mrs. Peacock
♦ Takiko
♦ Rook (OC)
♦ Queen*
[2011]
♦ The Little Prince
♦ Kunieda Aoi (hakama)
♦ Sirius Black
♦ Rose Sheedy
♦ Ginchiyo Tachibana
♦ Bartender (OC)
[2012]
♦ Tsunayoshi Sawada
♦ Cagalli GS
♦ Katsura Kotarou
♦ Kunieda Aoi (manga art ver)
♦ Lamia*
♦ Kanon
♦ Eva-chan
♦ Lan Fan
♦ May Chang*
♦ Spring (OC)
[2013]
♦ Katsura Kotarou (uni)
♦ Haru
♦ Katsura Kotarou (Benizakura Arc)
♦ Soujiro Seta
♦ Sasha Blouse
♦ Rico
♦ Christa*
♦ Cagalli GSD final plus
♦ Sasha Blouse (hunter)
[2014]
♦ Katsura Kotarou (Joui)
♦ Legolas Greenleaf (DoS)
[2015]
♦ Duo Maxwell (Preventers)
♦ Kuneida Aoi (uni)
* Cosplayer: Sarah
※ Gate4: Exit
Main Blog
the Lesser Generation
※ SideGate