Thursday, August 29, 2013
one is stiffer than the other
*do one blade*
*do one toaster*
*do other blade*
other toaster now ´∀`
Labels: progress, shingeki no kyojin
Time Recorded: 3:47 AM
※ ※ ※ ※ ※ ※ ※ ※ ※ ※ ※ ※ ※ ※ ※ ※ ※
Monday, August 26, 2013
zzzzzzzzzzzzzz
Labels: progress, shingeki no kyojin
Time Recorded: 4:17 AM
※ ※ ※ ※ ※ ※ ※ ※ ※ ※ ※ ※ ※ ※ ※ ※ ※
Saturday, August 24, 2013
tape spam. not gonna be enough for another blade so i gotta wait til tmr to buy more =A=
haha flexible blade~
Labels: progress, shingeki no kyojin
Time Recorded: 4:16 AM
※ ※ ※ ※ ※ ※ ※ ※ ※ ※ ※ ※ ※ ※ ※ ※ ※
Friday, August 23, 2013
I got many guinea pigs to play with~
Labels: progress, shingeki no kyojin
Time Recorded: 5:58 PM
※ ※ ※ ※ ※ ※ ※ ※ ※ ※ ※ ※ ※ ※ ※ ※ ※
Wednesday, August 14, 2013
what. sorcery---
I don't like it when the first person who bothers me in the morning is not my dragon =____=;;;
anyway.
WHY AM I ALWAYS OUT OF TAPE. IN THE DEAD OF THE NIGHT/MORNING.
waiting for this weekend to collect materials from Yukio, then I got another week to complete the new toasters. Can Forever 21 bring in boots again. I'm pretty sure the one I'm using is past 1 year. I need my extremely useful casual boots.
Sarah wants to come for STGCC but its a fucking pain to find excuse... prolly have to bother grandparents... if the poor thing can't, I don't mind solo-ing on STGCC but luggage hard sia. Still dunno going day 1 or not.... day 2 gonna do legion. musssttt do legion before garrison. My brain is scrambled.
hah.... continue intel gathering....
Labels: rant
Time Recorded: 6:48 AM
※ ※ ※ ※ ※ ※ ※ ※ ※ ※ ※ ※ ※ ※ ※ ※ ※
※Gate1: Enter
Nobody but myself is expected to come here.
All posts are cosplay related, hence not to be taken too seriously ;D
♦Bokura wa Ima no Naka de♦


※ Gate2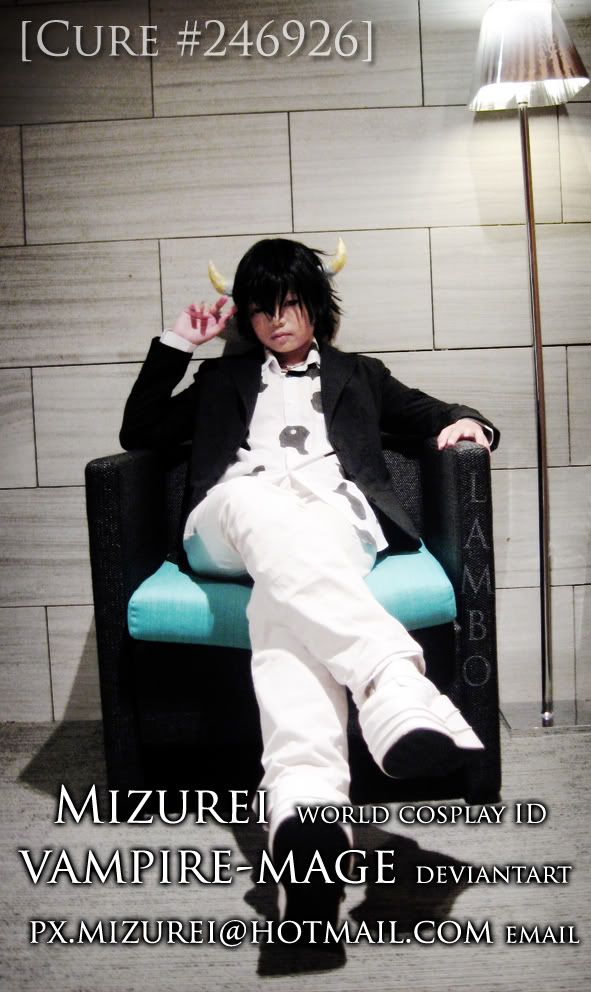 Mizurei is:
-short
-heavy
-ugly
-annoying
-sees light and darkness everywhere


※ Gate3
[☆]Ongoing Projects[☆]
♦ Miaka
♦ Hixar Fermi
♦ Alice Royal Suit
♦ Sugata
♦ Kagura
[★]Completed Projects[★]
[2007]
♦ Haku
[2008]
♦ Ema Skye
♦ Trucy Gramarye*
[2009]
♦ Meirin
♦ Natsuo
♦ Lucy*
♦ Void
♦ Belphegor
♦ Cheshire Cat
♦ Alice*
[2010]
♦ Lambo 15yrs old
♦ Fergus
♦ Cagalli GSD
♦ The Arrow*
♦ Mrs. Peacock
♦ Takiko
♦ Rook (OC)
♦ Queen*
[2011]
♦ The Little Prince
♦ Kunieda Aoi (hakama)
♦ Sirius Black
♦ Rose Sheedy
♦ Ginchiyo Tachibana
♦ Bartender (OC)
[2012]
♦ Tsunayoshi Sawada
♦ Cagalli GS
♦ Katsura Kotarou
♦ Kunieda Aoi (manga art ver)
♦ Lamia*
♦ Kanon
♦ Eva-chan
♦ Lan Fan
♦ May Chang*
♦ Spring (OC)
[2013]
♦ Katsura Kotarou (uni)
♦ Haru
♦ Katsura Kotarou (Benizakura Arc)
♦ Soujiro Seta
♦ Sasha Blouse
♦ Rico
♦ Christa*
♦ Cagalli GSD final plus
♦ Sasha Blouse (hunter)
[2014]
♦ Katsura Kotarou (Joui)
♦ Legolas Greenleaf (DoS)
[2015]
♦ Duo Maxwell (Preventers)
♦ Kuneida Aoi (uni)
* Cosplayer: Sarah
※ Gate4: Exit
Main Blog
the Lesser Generation
※ SideGate