Friday, March 13, 2015
gundam jahannam
I haven't cosed any other Gundam character other than Cagalli, and I got Rouge for her. Gunpla is kinda a must. Later 00... already have seven sword butbutbut want Exia. but 00 is okay..
Was braiding Duo's hair one of the days at Grandparents'
I'd just finished trimming the fringe a little bit just now. Can I have this wig in purple. haha
LOL finally got use for daiso submachine. annoying plastic surface so sanded it all around and gundam marker for highlights. add strap. eh.... strap should be thicker and like brown or sth. uuuuuhhhh
hahaha just doing own ver sia. initially picked out official art but. THINGS HAPPEN. I even got the red shirt and all... but BETTER THINGS HAPPEN. haha.
oh i found these. havent upload anywhere. um. i dont think theyve been edited properly. or maybe couldnt decided which to pick so pick none. or cant find lacus foreground counterpart.
Labels: gundam wing, progress
Time Recorded: 7:04 PM
※ ※ ※ ※ ※ ※ ※ ※ ※ ※ ※ ※ ※ ※ ※ ※ ※
Thursday, March 12, 2015
Trowa and Duo wig trial on saturday lol. am just gonna wear Duo casual. Oga and Aoi for sunday~
ugh ugh ugh im too old to wear sch uni lol and fat. k bye
Labels: rant
Time Recorded: 9:32 AM
※ ※ ※ ※ ※ ※ ※ ※ ※ ※ ※ ※ ※ ※ ※ ※ ※
※Gate1: Enter
Nobody but myself is expected to come here.
All posts are cosplay related, hence not to be taken too seriously ;D
♦Bokura wa Ima no Naka de♦


※ Gate2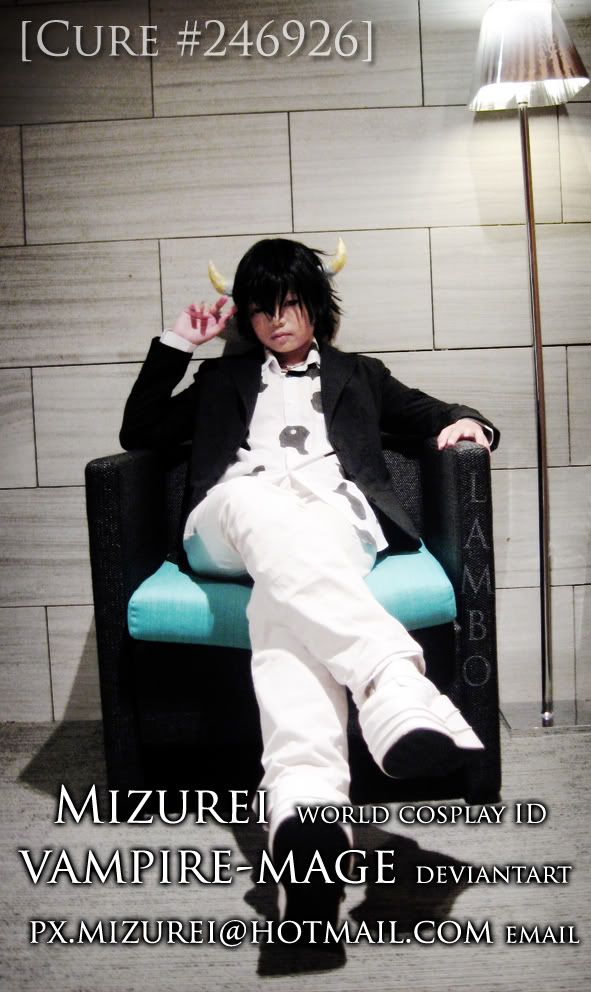 Mizurei is:
-short
-heavy
-ugly
-annoying
-sees light and darkness everywhere


※ Gate3
[☆]Ongoing Projects[☆]
♦ Miaka
♦ Hixar Fermi
♦ Alice Royal Suit
♦ Sugata
♦ Kagura
[★]Completed Projects[★]
[2007]
♦ Haku
[2008]
♦ Ema Skye
♦ Trucy Gramarye*
[2009]
♦ Meirin
♦ Natsuo
♦ Lucy*
♦ Void
♦ Belphegor
♦ Cheshire Cat
♦ Alice*
[2010]
♦ Lambo 15yrs old
♦ Fergus
♦ Cagalli GSD
♦ The Arrow*
♦ Mrs. Peacock
♦ Takiko
♦ Rook (OC)
♦ Queen*
[2011]
♦ The Little Prince
♦ Kunieda Aoi (hakama)
♦ Sirius Black
♦ Rose Sheedy
♦ Ginchiyo Tachibana
♦ Bartender (OC)
[2012]
♦ Tsunayoshi Sawada
♦ Cagalli GS
♦ Katsura Kotarou
♦ Kunieda Aoi (manga art ver)
♦ Lamia*
♦ Kanon
♦ Eva-chan
♦ Lan Fan
♦ May Chang*
♦ Spring (OC)
[2013]
♦ Katsura Kotarou (uni)
♦ Haru
♦ Katsura Kotarou (Benizakura Arc)
♦ Soujiro Seta
♦ Sasha Blouse
♦ Rico
♦ Christa*
♦ Cagalli GSD final plus
♦ Sasha Blouse (hunter)
[2014]
♦ Katsura Kotarou (Joui)
♦ Legolas Greenleaf (DoS)
[2015]
♦ Duo Maxwell (Preventers)
♦ Kuneida Aoi (uni)
* Cosplayer: Sarah
※ Gate4: Exit
Main Blog
the Lesser Generation
※ SideGate