Monday, September 29, 2014
Bugis event i dont remember what the name is
The day before, we bumped into heichou and talked about her doing Armin. I remembered that I have eva-chan's wig that I don't mind trimming fringe. Three stops from where I get off (Heichou not present), realised I can do Petra instead of Christa since Kai doing Levi. And it seemed we fell into this trap of understating our intentions. I already did it once and it happen again OTL. Heichou (i know Kai is cosing heichou but I haven't made that transition and still refer to xu yun as Heichou) didn't realise when we say "costest after school" we actually meant "random closet getup to event"
HAHAHAH. I'm sorry... idk if i can promise to not do it again coz i swear i didn't realise i was even doing it OTL
Next day, wear wig in school toilet. Heichou got shocked we're in makeup and shitz. and the scene where Kai tells her to "bend over" rings in my head lololol. meant bend over the rubbish bin so we can trim fringe.
Since Armin no lens, lent her my shades. lol. Heichou why you so character. ungh cant wait fr shoot...
I'm sorry for the following camwhores.
Pumpkin bread~
Salute coz if you die, your spirit can live in the salutations of living comrades.
i like the front cam for being so filtered-like ahahaha
Met up with peeps there, end up on upper level looking down at everyone.
Gyahhh theyre so small... Petra is lighter than Sarah.
Shopping at Uniqlo~
I didn't really talk about the event. coz nothing to say. hahahahahahahhahaha. nice to catch up with peeps.
Labels: event
Time Recorded: 11:01 PM
※ ※ ※ ※ ※ ※ ※ ※ ※ ※ ※ ※ ※ ※ ※ ※ ※
※Gate1: Enter
Nobody but myself is expected to come here.
All posts are cosplay related, hence not to be taken too seriously ;D
♦Bokura wa Ima no Naka de♦


※ Gate2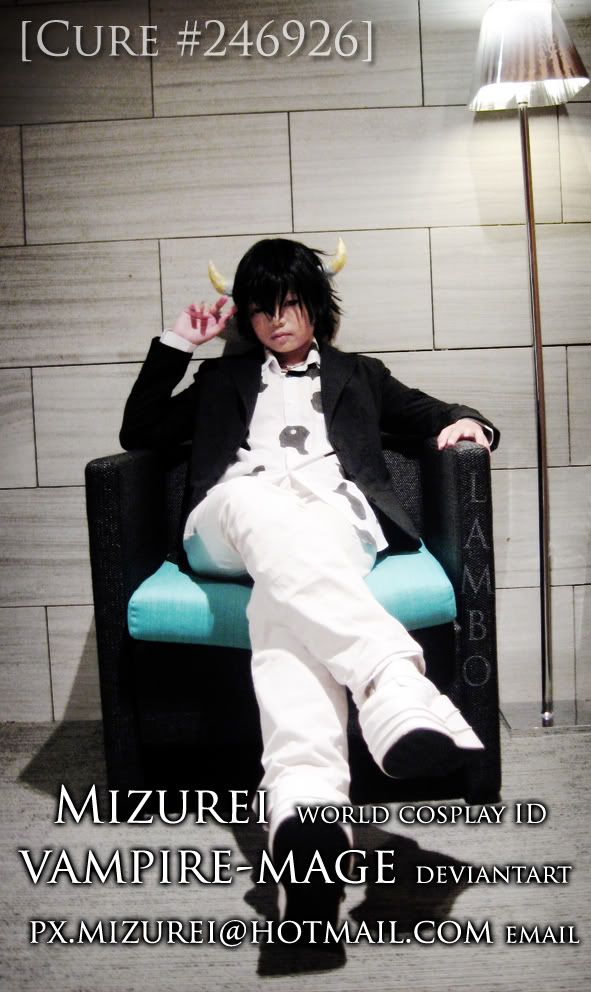 Mizurei is:
-short
-heavy
-ugly
-annoying
-sees light and darkness everywhere


※ Gate3
[☆]Ongoing Projects[☆]
♦ Miaka
♦ Hixar Fermi
♦ Alice Royal Suit
♦ Sugata
♦ Kagura
[★]Completed Projects[★]
[2007]
♦ Haku
[2008]
♦ Ema Skye
♦ Trucy Gramarye*
[2009]
♦ Meirin
♦ Natsuo
♦ Lucy*
♦ Void
♦ Belphegor
♦ Cheshire Cat
♦ Alice*
[2010]
♦ Lambo 15yrs old
♦ Fergus
♦ Cagalli GSD
♦ The Arrow*
♦ Mrs. Peacock
♦ Takiko
♦ Rook (OC)
♦ Queen*
[2011]
♦ The Little Prince
♦ Kunieda Aoi (hakama)
♦ Sirius Black
♦ Rose Sheedy
♦ Ginchiyo Tachibana
♦ Bartender (OC)
[2012]
♦ Tsunayoshi Sawada
♦ Cagalli GS
♦ Katsura Kotarou
♦ Kunieda Aoi (manga art ver)
♦ Lamia*
♦ Kanon
♦ Eva-chan
♦ Lan Fan
♦ May Chang*
♦ Spring (OC)
[2013]
♦ Katsura Kotarou (uni)
♦ Haru
♦ Katsura Kotarou (Benizakura Arc)
♦ Soujiro Seta
♦ Sasha Blouse
♦ Rico
♦ Christa*
♦ Cagalli GSD final plus
♦ Sasha Blouse (hunter)
[2014]
♦ Katsura Kotarou (Joui)
♦ Legolas Greenleaf (DoS)
[2015]
♦ Duo Maxwell (Preventers)
♦ Kuneida Aoi (uni)
* Cosplayer: Sarah
※ Gate4: Exit
Main Blog
the Lesser Generation
※ SideGate