Monday, June 3, 2013
some lousy excuse of an update
On Friday, suddenly decided to redo Caga GSD with current wig for Anime Matsuri. Happier with the fringe now that it's trimmed \o/
The cloth I used for the top is very stubborn. Iron so long still like naked mole rat. It feels like expensive cloth. Was it from Natsuo/Youji? I don't remember D=
The next day, Kai did Movie Rin and people think I'm Shiemi. D< I bet those people think I cosfuck so bad because #1) M FRINGE WHAAATTT. #2) DAFUQ SAME HEIGHT AS RIN
But there are some who recognise Cagalli. Yay~
Kaname passed us and we stalk. Can't take pic with him coz he's looking for cosplayers to invite to comp. So stalk ah~ Since we missed him so many times at AFA. Cept Kai. Damn lucky all the time.
We thought he'd come to the Vanguard area so we waited around. And just when we were giving up looking, we were talking about him and then I saw him walking and I'm like "Kaname-saaaann~~" and he smiled and bowed and I'm all flatlining and doki doki at the same time.
Then he was on stage~ oh wait before that Kai and Yukio got to take pic with Angie on stage. Lucky~~ Kaname was on for Vanguard. Some guy got to play a match against him. Couldn't stay so I don't know who won OTL Kaname won, didn't he.... he seems so strong~ And that moment he take off jacket~ hahahahahhahahha fangirlsgowild.jpg
Just now, had 7 hr lab. I was first to finish the first experiment but when it was my turn to measure IR, the machine decided to show attitude. So cursed ;A; Go next door the program decide to show attitude at my turn OTL Even tho I keep finishing earlier, I WAS STILL SOMEHOW DAMN SLOW. Only left lab 5+
Initially wanted to cab to funan but got Q. Take MRT with Kai and Fi, but I ran ahead to the mall with some loose hope but I really juuuuusssttt missed Kaname stage time. Cock ahhh. Kai magical-girl transformed into flame-headed idol on the way. Only stayed a few mins, then go home OTL Stupid people crowd infront of door. Then don't want move in when got so much space. -snaps- Foreign talent right~~ so talented.
So fucking thirsty now.
Partial 3DMG wire reel planning done. I need to get some blocks of wood from daiso~
Gna slp now. Tmr clear mess and do report before hunting D<
Time Recorded: 2:04 AM
※ ※ ※ ※ ※ ※ ※ ※ ※ ※ ※ ※ ※ ※ ※ ※ ※
※Gate1: Enter
Nobody but myself is expected to come here.
All posts are cosplay related, hence not to be taken too seriously ;D
♦Bokura wa Ima no Naka de♦


※ Gate2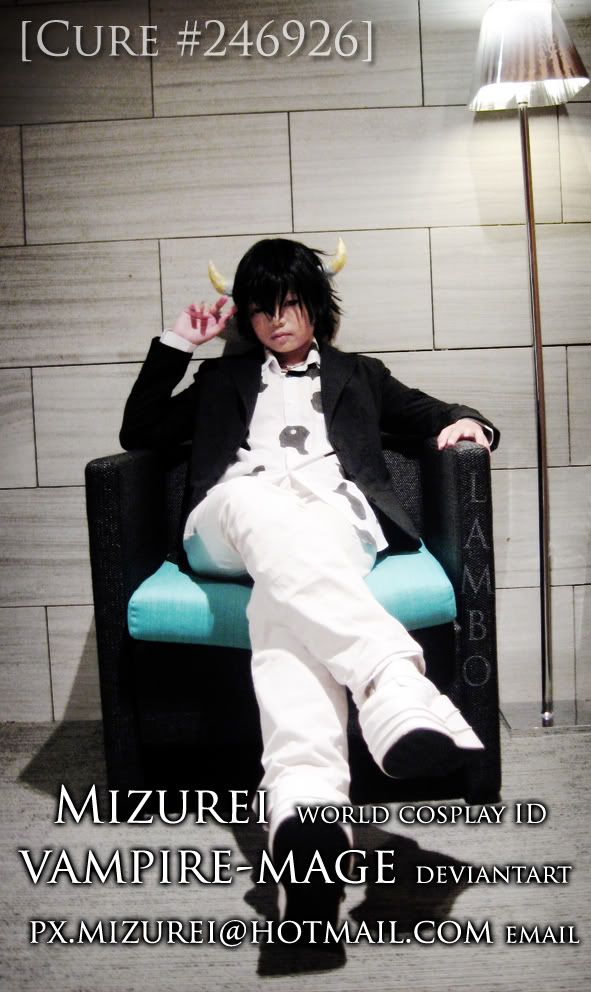 Mizurei is:
-short
-heavy
-ugly
-annoying
-sees light and darkness everywhere


※ Gate3
[☆]Ongoing Projects[☆]
♦ Miaka
♦ Hixar Fermi
♦ Alice Royal Suit
♦ Sugata
♦ Kagura
[★]Completed Projects[★]
[2007]
♦ Haku
[2008]
♦ Ema Skye
♦ Trucy Gramarye*
[2009]
♦ Meirin
♦ Natsuo
♦ Lucy*
♦ Void
♦ Belphegor
♦ Cheshire Cat
♦ Alice*
[2010]
♦ Lambo 15yrs old
♦ Fergus
♦ Cagalli GSD
♦ The Arrow*
♦ Mrs. Peacock
♦ Takiko
♦ Rook (OC)
♦ Queen*
[2011]
♦ The Little Prince
♦ Kunieda Aoi (hakama)
♦ Sirius Black
♦ Rose Sheedy
♦ Ginchiyo Tachibana
♦ Bartender (OC)
[2012]
♦ Tsunayoshi Sawada
♦ Cagalli GS
♦ Katsura Kotarou
♦ Kunieda Aoi (manga art ver)
♦ Lamia*
♦ Kanon
♦ Eva-chan
♦ Lan Fan
♦ May Chang*
♦ Spring (OC)
[2013]
♦ Katsura Kotarou (uni)
♦ Haru
♦ Katsura Kotarou (Benizakura Arc)
♦ Soujiro Seta
♦ Sasha Blouse
♦ Rico
♦ Christa*
♦ Cagalli GSD final plus
♦ Sasha Blouse (hunter)
[2014]
♦ Katsura Kotarou (Joui)
♦ Legolas Greenleaf (DoS)
[2015]
♦ Duo Maxwell (Preventers)
♦ Kuneida Aoi (uni)
* Cosplayer: Sarah
※ Gate4: Exit
Main Blog
the Lesser Generation
※ SideGate