Monday, August 27, 2012
ICDS
Reached with Yuu around 10+ then I changed into Prince. So deserted in the morning. The cosplay panel oso like only a few people attend. babi ar korang, tak tau sape Yaya Han and Jerry Polence ke pe. I forgot to think of question to ask OTL would like to have done so... Event was really slow and almost boring at first due to desertedness but it picked up for me when I went to queue for Yaya Han's coscard+signature. kyaha~ Gave her Tachibana card~ I was quite at front of Q and so paiseh never buy print or calendar. haha~ I'd bought her pony ears tho, does that count? haha. Yuu left early, before anything happen. I just left my bag on a seat and went around with Jonty though he wasn't doing a good job indoors. Ahh~ then while I was dono doing what near lightsabers, Jerry Polence came in the near entrance~ Ah she so nice~ and her tail is so cool~ Took pic with her while I was wearing the ears LOL. I didn't realise until I saw the pic. Lots more people flooding in, but lacking in epicness...
Cosplay chess~~ I really wanted to watch. But Tora singing Invoke oredy, saying its time to go. I waited until Dalek came out, then I shout "EXTERMINATE" and then left. Oh ya, I definitely saw an Eleventh Doctor while I was queuing for Yaya Han. So I could only watch from far.
It was actually a pretty good con, content-wise, and it ran on time omg I appreciate that so much haha. I wish there were more cosplayers, and more characters that I'm familiar with. But I can blame that on my limited knowledge. I like the theme. I had wanted to do East vs West ever since EOY last year, with the Sith battling us Warriors. I had actually created a little story in my head of how time and space got warped and they met. hahaha. never got to see the light of day. And the ICDS cosplay chess xD hell yeah~ Feels like something fulfilled tho I had nothing to do with it...
More Epic Guests next year please~~ xD
Chibi-oresama out~
きもちわるい。
Labels: event, the little prince
Time Recorded: 12:12 AM
※ ※ ※ ※ ※ ※ ※ ※ ※ ※ ※ ※ ※ ※ ※ ※ ※
※Gate1: Enter
Nobody but myself is expected to come here.
All posts are cosplay related, hence not to be taken too seriously ;D
♦Bokura wa Ima no Naka de♦


※ Gate2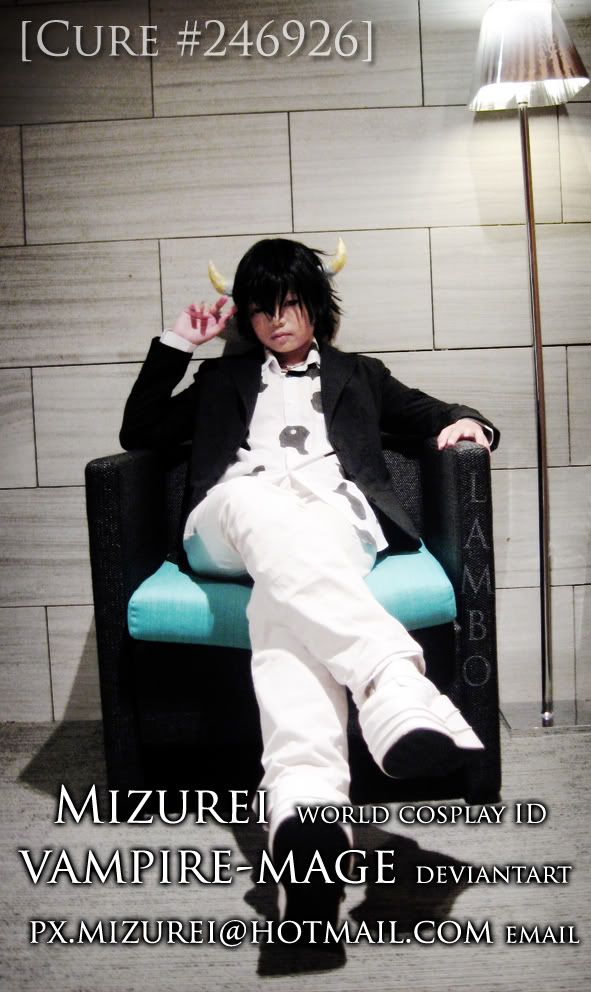 Mizurei is:
-short
-heavy
-ugly
-annoying
-sees light and darkness everywhere


※ Gate3
[☆]Ongoing Projects[☆]
♦ Miaka
♦ Hixar Fermi
♦ Alice Royal Suit
♦ Sugata
♦ Kagura
[★]Completed Projects[★]
[2007]
♦ Haku
[2008]
♦ Ema Skye
♦ Trucy Gramarye*
[2009]
♦ Meirin
♦ Natsuo
♦ Lucy*
♦ Void
♦ Belphegor
♦ Cheshire Cat
♦ Alice*
[2010]
♦ Lambo 15yrs old
♦ Fergus
♦ Cagalli GSD
♦ The Arrow*
♦ Mrs. Peacock
♦ Takiko
♦ Rook (OC)
♦ Queen*
[2011]
♦ The Little Prince
♦ Kunieda Aoi (hakama)
♦ Sirius Black
♦ Rose Sheedy
♦ Ginchiyo Tachibana
♦ Bartender (OC)
[2012]
♦ Tsunayoshi Sawada
♦ Cagalli GS
♦ Katsura Kotarou
♦ Kunieda Aoi (manga art ver)
♦ Lamia*
♦ Kanon
♦ Eva-chan
♦ Lan Fan
♦ May Chang*
♦ Spring (OC)
[2013]
♦ Katsura Kotarou (uni)
♦ Haru
♦ Katsura Kotarou (Benizakura Arc)
♦ Soujiro Seta
♦ Sasha Blouse
♦ Rico
♦ Christa*
♦ Cagalli GSD final plus
♦ Sasha Blouse (hunter)
[2014]
♦ Katsura Kotarou (Joui)
♦ Legolas Greenleaf (DoS)
[2015]
♦ Duo Maxwell (Preventers)
♦ Kuneida Aoi (uni)
* Cosplayer: Sarah
※ Gate4: Exit
Main Blog
the Lesser Generation
※ SideGate