Thursday, July 5, 2012
Go blow yourself up you useless deershit
Been flailing around for the past hour at the realization that I made Zura's outer thingy wrong. The sleeve should be dangling. Not like kendo gi OTL
I saw costume pics a lot of time and saw that dangling thing and went "huh why got sleeve liddat" and just brushed it off. Because for some reason I was so sure it wasn't supposed to be, plus not having the extra bulk suited me. Even after looking at his pics every day.... and then.... just now... I came across a chibi form that showed the sleeve pretty clear... and... I went back and looked at other pics.... and.... and.........
-WAILS ASS OFF-
OTL
.......OTL
...............OTL
It's in 2 fucking days.
I don't know if I should visit wizard cloth auntie again and get some more... again. This is so goddamn depressing.
I take slight comfort seeing other cosers make same mistake. No not really.
And wtf, I sewed in 10cm of the sleeve opening just to make myself feel better but that didn't work. I'm still a stupid dumbshit clotpole cabbagehead.
Why am I such a scumbag loser............
Go cos some useless character and kill yourself.
Father, I blame you for everything.
Time Recorded: 8:37 AM
※ ※ ※ ※ ※ ※ ※ ※ ※ ※ ※ ※ ※ ※ ※ ※ ※
※Gate1: Enter
Nobody but myself is expected to come here.
All posts are cosplay related, hence not to be taken too seriously ;D
♦Bokura wa Ima no Naka de♦


※ Gate2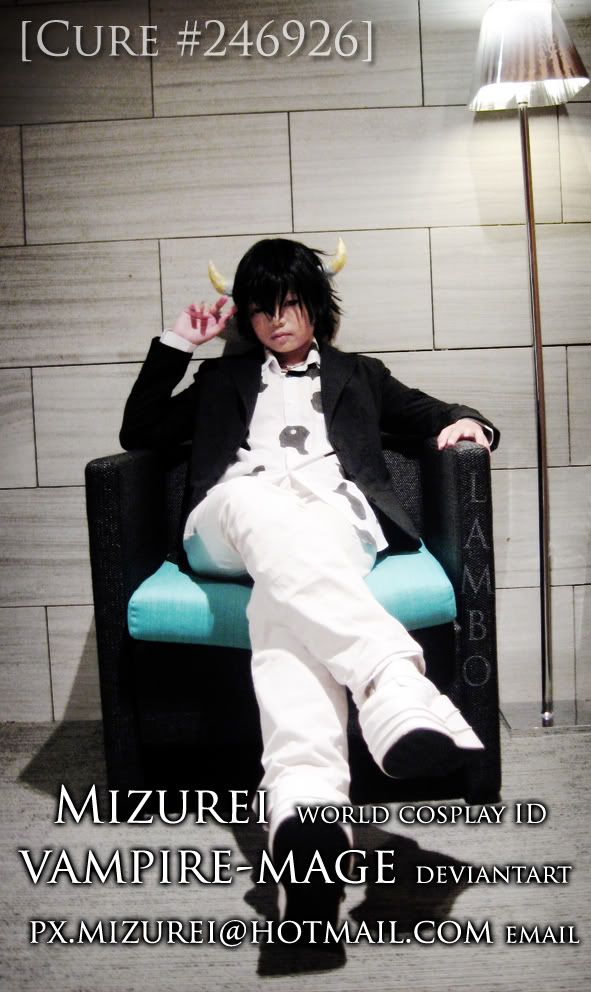 Mizurei is:
-short
-heavy
-ugly
-annoying
-sees light and darkness everywhere


※ Gate3
[☆]Ongoing Projects[☆]
♦ Miaka
♦ Hixar Fermi
♦ Alice Royal Suit
♦ Sugata
♦ Kagura
[★]Completed Projects[★]
[2007]
♦ Haku
[2008]
♦ Ema Skye
♦ Trucy Gramarye*
[2009]
♦ Meirin
♦ Natsuo
♦ Lucy*
♦ Void
♦ Belphegor
♦ Cheshire Cat
♦ Alice*
[2010]
♦ Lambo 15yrs old
♦ Fergus
♦ Cagalli GSD
♦ The Arrow*
♦ Mrs. Peacock
♦ Takiko
♦ Rook (OC)
♦ Queen*
[2011]
♦ The Little Prince
♦ Kunieda Aoi (hakama)
♦ Sirius Black
♦ Rose Sheedy
♦ Ginchiyo Tachibana
♦ Bartender (OC)
[2012]
♦ Tsunayoshi Sawada
♦ Cagalli GS
♦ Katsura Kotarou
♦ Kunieda Aoi (manga art ver)
♦ Lamia*
♦ Kanon
♦ Eva-chan
♦ Lan Fan
♦ May Chang*
♦ Spring (OC)
[2013]
♦ Katsura Kotarou (uni)
♦ Haru
♦ Katsura Kotarou (Benizakura Arc)
♦ Soujiro Seta
♦ Sasha Blouse
♦ Rico
♦ Christa*
♦ Cagalli GSD final plus
♦ Sasha Blouse (hunter)
[2014]
♦ Katsura Kotarou (Joui)
♦ Legolas Greenleaf (DoS)
[2015]
♦ Duo Maxwell (Preventers)
♦ Kuneida Aoi (uni)
* Cosplayer: Sarah
※ Gate4: Exit
Main Blog
the Lesser Generation
※ SideGate