Thursday, December 22, 2011
EOY performance
You can see how freaking bad it was here.
*future hijack* It wasn't THAT bad! I mean it's obvious we weren't really comfortable on stage... heck... I'm not even comfortable anywhere on earth. There's a lot of things we learned from doing this, and that was the point, besides dumb fun. There was so much fear in every little thing I did, every step I took, because of how the costume was made or something else. My sword broke, and the rest of my choreo was disrupted. but at the point where I decided to take off the hanging piece and continue, was the point that was most fun. Performance is not just practice. But with enough practice you get comfortable making decisions on the spot. I didn't get enough practice or preparation, because our approach was flawed. There are so many things that go into making something work. Thank you so much to Knife who helped us so very much! I think he was the most comfy ahaha. I want to perform again, for dumb fun.
So sorry, Tim, for ruining your beautiful stage T_T
-continue slitting body parts-
And my bloody name...... sigh.
*future hijack from 2014* -ROLLS EYE- of all the bloody things I chose to say, this was it? I know I was affected by other things when I wrote this, and it is true that I thought it, but I thought a lot of things and this was not the final say. I'm very thankful to Tim for lending us this stage for those moments. And I do think we brought something different to the set. Nobody else did a skit. Everyone else performed musical numbers. Fightsaber did audition but they didn't get in, but we did, because we were cosplaying and it was a cosplay event and srsly I think that these events need more cosplay skits and not just have them for competition. (pfft i have an opinion. conscience at my side rolling eye at me while i roll eye at self.) yea well anyway stuff had been said in eoy post. I just came back to this one because i remember being influenced by something negative while i posted this. just making amends
Time Recorded: 1:08 AM
※ ※ ※ ※ ※ ※ ※ ※ ※ ※ ※ ※ ※ ※ ※ ※ ※
※Gate1: Enter
Nobody but myself is expected to come here.
All posts are cosplay related, hence not to be taken too seriously ;D
♦Bokura wa Ima no Naka de♦


※ Gate2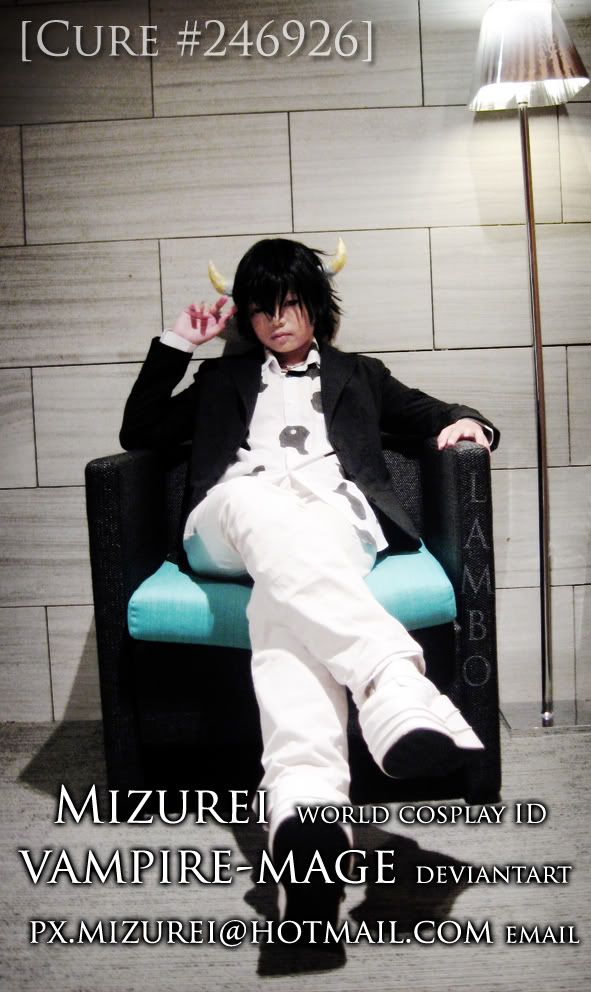 Mizurei is:
-short
-heavy
-ugly
-annoying
-sees light and darkness everywhere


※ Gate3
[☆]Ongoing Projects[☆]
♦ Miaka
♦ Hixar Fermi
♦ Alice Royal Suit
♦ Sugata
♦ Kagura
[★]Completed Projects[★]
[2007]
♦ Haku
[2008]
♦ Ema Skye
♦ Trucy Gramarye*
[2009]
♦ Meirin
♦ Natsuo
♦ Lucy*
♦ Void
♦ Belphegor
♦ Cheshire Cat
♦ Alice*
[2010]
♦ Lambo 15yrs old
♦ Fergus
♦ Cagalli GSD
♦ The Arrow*
♦ Mrs. Peacock
♦ Takiko
♦ Rook (OC)
♦ Queen*
[2011]
♦ The Little Prince
♦ Kunieda Aoi (hakama)
♦ Sirius Black
♦ Rose Sheedy
♦ Ginchiyo Tachibana
♦ Bartender (OC)
[2012]
♦ Tsunayoshi Sawada
♦ Cagalli GS
♦ Katsura Kotarou
♦ Kunieda Aoi (manga art ver)
♦ Lamia*
♦ Kanon
♦ Eva-chan
♦ Lan Fan
♦ May Chang*
♦ Spring (OC)
[2013]
♦ Katsura Kotarou (uni)
♦ Haru
♦ Katsura Kotarou (Benizakura Arc)
♦ Soujiro Seta
♦ Sasha Blouse
♦ Rico
♦ Christa*
♦ Cagalli GSD final plus
♦ Sasha Blouse (hunter)
[2014]
♦ Katsura Kotarou (Joui)
♦ Legolas Greenleaf (DoS)
[2015]
♦ Duo Maxwell (Preventers)
♦ Kuneida Aoi (uni)
* Cosplayer: Sarah
※ Gate4: Exit
Main Blog
the Lesser Generation
※ SideGate