Wednesday, December 21, 2011
empty post
Before this, I thought; 5 years and I'm still small fish swimming in the darkest part of an evergrowing pond. Now, I say the darkest corners are the only ones I deserve.
Worthless good-for-nothing shit, go die. Slit your throat and feed your blood to the sharks. If they'd even bother. You dare think light is worth shining on you? The smell of cut grass and soil after rain makes you sick. Even nature is against you. Go back to your hole, and if you ever think of sticking your head out again, think hard until you realise why you're in a hole in the first place.
I put on Full Moon Sway and stare up at the clouds which are almost a constant reminder that the beauty of the cosmos does not wish to present itself to those who seek it because they are weak.
I'm glad I kept a handful of resolve in a jar. It sits beside my jar of corneas. For safe-keeping because I'd loose it so willingly, like now.
SUDDENLY.
Something happened, a realisation, that had almost nothing to do with the above despair. I AM NOW SO HAPPY LOLOLOLOOLLOL.
Time Recorded: 1:54 AM
※ ※ ※ ※ ※ ※ ※ ※ ※ ※ ※ ※ ※ ※ ※ ※ ※
※Gate1: Enter
Nobody but myself is expected to come here.
All posts are cosplay related, hence not to be taken too seriously ;D
♦Bokura wa Ima no Naka de♦


※ Gate2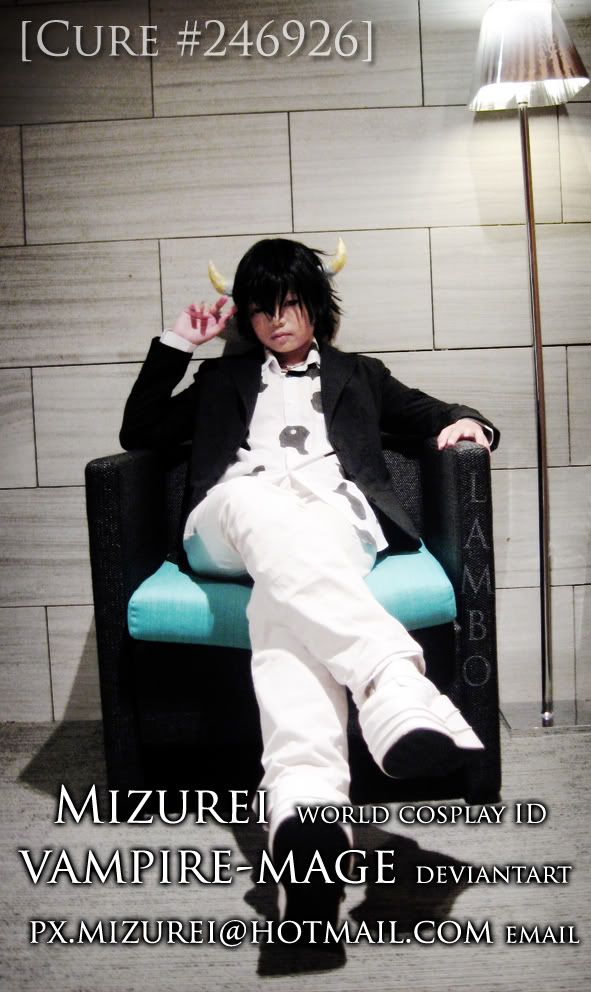 Mizurei is:
-short
-heavy
-ugly
-annoying
-sees light and darkness everywhere


※ Gate3
[☆]Ongoing Projects[☆]
♦ Miaka
♦ Hixar Fermi
♦ Alice Royal Suit
♦ Sugata
♦ Kagura
[★]Completed Projects[★]
[2007]
♦ Haku
[2008]
♦ Ema Skye
♦ Trucy Gramarye*
[2009]
♦ Meirin
♦ Natsuo
♦ Lucy*
♦ Void
♦ Belphegor
♦ Cheshire Cat
♦ Alice*
[2010]
♦ Lambo 15yrs old
♦ Fergus
♦ Cagalli GSD
♦ The Arrow*
♦ Mrs. Peacock
♦ Takiko
♦ Rook (OC)
♦ Queen*
[2011]
♦ The Little Prince
♦ Kunieda Aoi (hakama)
♦ Sirius Black
♦ Rose Sheedy
♦ Ginchiyo Tachibana
♦ Bartender (OC)
[2012]
♦ Tsunayoshi Sawada
♦ Cagalli GS
♦ Katsura Kotarou
♦ Kunieda Aoi (manga art ver)
♦ Lamia*
♦ Kanon
♦ Eva-chan
♦ Lan Fan
♦ May Chang*
♦ Spring (OC)
[2013]
♦ Katsura Kotarou (uni)
♦ Haru
♦ Katsura Kotarou (Benizakura Arc)
♦ Soujiro Seta
♦ Sasha Blouse
♦ Rico
♦ Christa*
♦ Cagalli GSD final plus
♦ Sasha Blouse (hunter)
[2014]
♦ Katsura Kotarou (Joui)
♦ Legolas Greenleaf (DoS)
[2015]
♦ Duo Maxwell (Preventers)
♦ Kuneida Aoi (uni)
* Cosplayer: Sarah
※ Gate4: Exit
Main Blog
the Lesser Generation
※ SideGate