Tuesday, June 28, 2011
Cosfest, Beelzebub~
Didn't attend day 1 (wanted to do Little Prince again since Rei was lost earlier on). Fucken Lord Bitch is stuck in his stupid contradicting warped laws of his temporary tangent universe and always with his bloody fucked up stick up the stick up his ass.
He was gone the next morning, so I managed to do day 2 with Aki and Xu Yun as planned.
I woke up and thought it was still early. Ten minutes later I realised I was supposed to be out of the house =A= Didn't want to waste any extra time so I went out of the house in full costume. lol. Cept naginata of course... Stole Sai's shinai cover again. I had to walk past some kendo people who were in proper hakama.. I don't know why I felt embarrassed. Like I'm a poseur and they know it. Well, I am.
Anyways. Met up with the gang and Yuui who was doing Mugi (K-On) at BK and I was as always unfashionably late, but I didn't feel guilty because Yuui wasn't dressed full yet anyway.
It's a bad habit of mine, not feeling guilty sometimes.
Had lunch there, fixed up Mugi's hair, and then enter event~
Bought artwork and badges. I'm starting to really like buying artwork.
Howl's Moving Castle and Spirited Away.
Baby Beel's bare buttocks with what seems like a tail..... his balls fell off. I say it's ok, happens to the best of us.
haaaahahhaa nah there weren't any balls in the first place to fall off. Just empty... Eunuchesque.
I forgot the order that things went. But I got to soak up that free mana in the air and charge engine. Now I'm hungry for new characters. I'm falling behind D=
Is it only me or is the crowd getting thinner? ooh but the opened another tent so I suppose that balanced things out.
I'm gonna go... bathe. Oh yeah, I finished Griffindor scarf! Huaaaa~~~ wanna make rooobeee~~
Time Recorded: 12:05 AM
※ ※ ※ ※ ※ ※ ※ ※ ※ ※ ※ ※ ※ ※ ※ ※ ※
※Gate1: Enter
Nobody but myself is expected to come here.
All posts are cosplay related, hence not to be taken too seriously ;D
♦Bokura wa Ima no Naka de♦


※ Gate2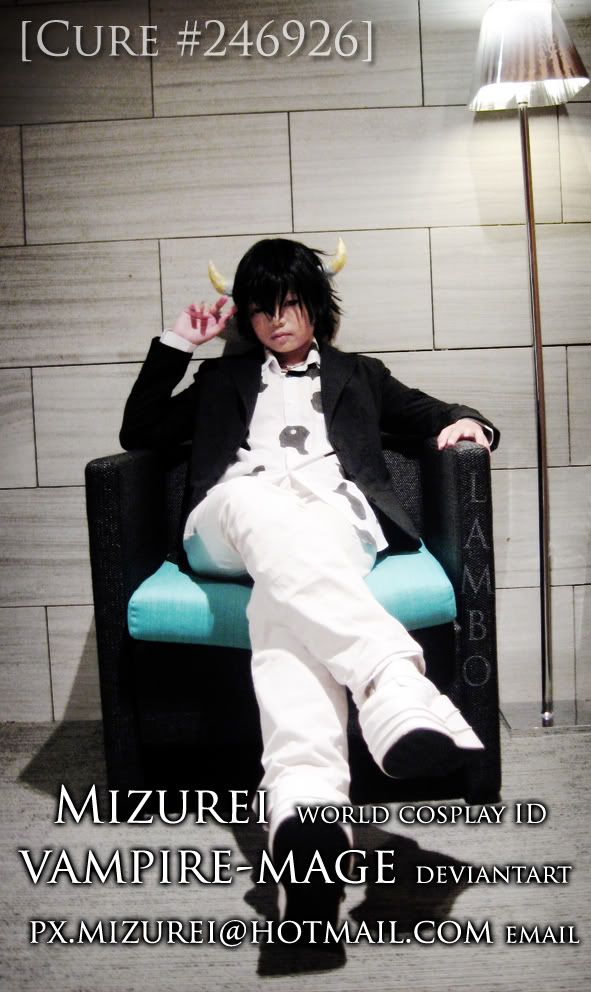 Mizurei is:
-short
-heavy
-ugly
-annoying
-sees light and darkness everywhere


※ Gate3
[☆]Ongoing Projects[☆]
♦ Miaka
♦ Hixar Fermi
♦ Alice Royal Suit
♦ Sugata
♦ Kagura
[★]Completed Projects[★]
[2007]
♦ Haku
[2008]
♦ Ema Skye
♦ Trucy Gramarye*
[2009]
♦ Meirin
♦ Natsuo
♦ Lucy*
♦ Void
♦ Belphegor
♦ Cheshire Cat
♦ Alice*
[2010]
♦ Lambo 15yrs old
♦ Fergus
♦ Cagalli GSD
♦ The Arrow*
♦ Mrs. Peacock
♦ Takiko
♦ Rook (OC)
♦ Queen*
[2011]
♦ The Little Prince
♦ Kunieda Aoi (hakama)
♦ Sirius Black
♦ Rose Sheedy
♦ Ginchiyo Tachibana
♦ Bartender (OC)
[2012]
♦ Tsunayoshi Sawada
♦ Cagalli GS
♦ Katsura Kotarou
♦ Kunieda Aoi (manga art ver)
♦ Lamia*
♦ Kanon
♦ Eva-chan
♦ Lan Fan
♦ May Chang*
♦ Spring (OC)
[2013]
♦ Katsura Kotarou (uni)
♦ Haru
♦ Katsura Kotarou (Benizakura Arc)
♦ Soujiro Seta
♦ Sasha Blouse
♦ Rico
♦ Christa*
♦ Cagalli GSD final plus
♦ Sasha Blouse (hunter)
[2014]
♦ Katsura Kotarou (Joui)
♦ Legolas Greenleaf (DoS)
[2015]
♦ Duo Maxwell (Preventers)
♦ Kuneida Aoi (uni)
* Cosplayer: Sarah
※ Gate4: Exit
Main Blog
the Lesser Generation
※ SideGate