Sunday, April 10, 2011
SOY C
I was at grandma's place around 1, got a lift to Ngee Ann so I reached before 2. Stoned for a few minutes outside the event, wondering how I'm going to contact the others. Then I went in. crowd~ But not unbearable I suppose. Walked around not looking at the booths. Tried to spot cosplays but I didn't take pictures D= There was an Ashlotte!! jhgfdxzxcvbn. Didn't see anyone I'm familiar with, cept Ryuki at the entrance.
Left the convention center... and walked around the campus... to find a bloody payphone. Then I gave up, went to the entrance security booth and asked. No payphones. ahah. So I went to Cheers and bought myself a prepaid number. But still can't call out!! (apparently there were some obscure settings I had to change, which I found out later at night) Got to SMS Aki and Yuu-chan, and I went to meet them at a cafe. Must've wasted an hour lawl.
Yuu-chan's friend, Xin Ling at the back.
I had already eaten, so I just got a drink. Nick came by. So did Kai and Shu Yun but they didn't stay. This reminds me, I got Nivea whitening cream from Yuu-chan. *goes to use it*
And then the fun begins 8D
Met people~ bought stuff~ (I usually end up not buying anything on events, so I'm glad I found stuff to buy XD) Be awed by people, laughed at people. Yeah the usual event stuff, but it had that good feel that had been missing for a while. -pumped up for cosfest-
ps. I don't get free hugs for Japan. How the heck are they going to translate as help? -frowns-
Labels: event
Time Recorded: 11:04 AM
※ ※ ※ ※ ※ ※ ※ ※ ※ ※ ※ ※ ※ ※ ※ ※ ※
※Gate1: Enter
Nobody but myself is expected to come here.
All posts are cosplay related, hence not to be taken too seriously ;D
♦Bokura wa Ima no Naka de♦


※ Gate2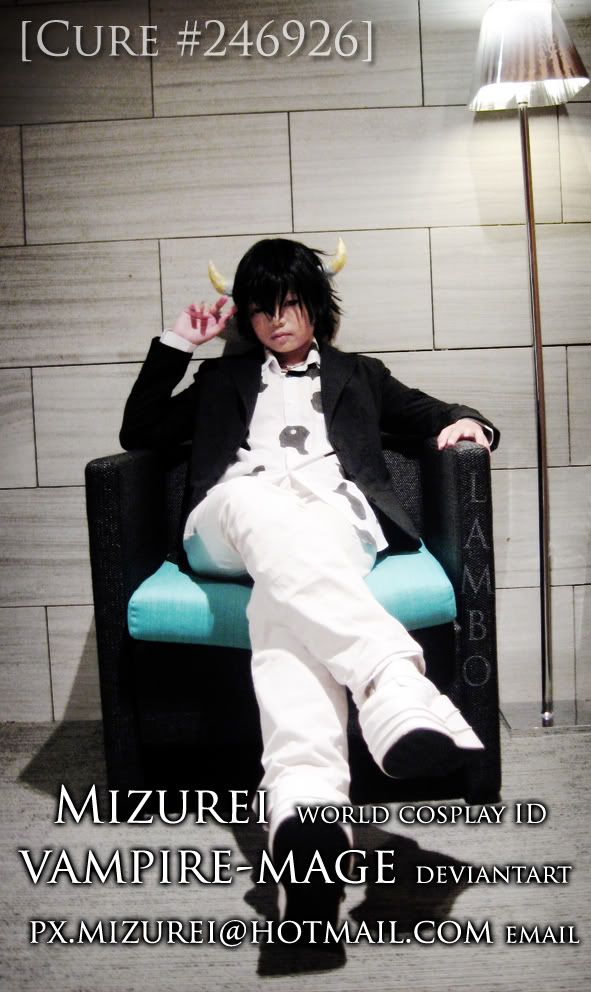 Mizurei is:
-short
-heavy
-ugly
-annoying
-sees light and darkness everywhere


※ Gate3
[☆]Ongoing Projects[☆]
♦ Miaka
♦ Hixar Fermi
♦ Alice Royal Suit
♦ Sugata
♦ Kagura
[★]Completed Projects[★]
[2007]
♦ Haku
[2008]
♦ Ema Skye
♦ Trucy Gramarye*
[2009]
♦ Meirin
♦ Natsuo
♦ Lucy*
♦ Void
♦ Belphegor
♦ Cheshire Cat
♦ Alice*
[2010]
♦ Lambo 15yrs old
♦ Fergus
♦ Cagalli GSD
♦ The Arrow*
♦ Mrs. Peacock
♦ Takiko
♦ Rook (OC)
♦ Queen*
[2011]
♦ The Little Prince
♦ Kunieda Aoi (hakama)
♦ Sirius Black
♦ Rose Sheedy
♦ Ginchiyo Tachibana
♦ Bartender (OC)
[2012]
♦ Tsunayoshi Sawada
♦ Cagalli GS
♦ Katsura Kotarou
♦ Kunieda Aoi (manga art ver)
♦ Lamia*
♦ Kanon
♦ Eva-chan
♦ Lan Fan
♦ May Chang*
♦ Spring (OC)
[2013]
♦ Katsura Kotarou (uni)
♦ Haru
♦ Katsura Kotarou (Benizakura Arc)
♦ Soujiro Seta
♦ Sasha Blouse
♦ Rico
♦ Christa*
♦ Cagalli GSD final plus
♦ Sasha Blouse (hunter)
[2014]
♦ Katsura Kotarou (Joui)
♦ Legolas Greenleaf (DoS)
[2015]
♦ Duo Maxwell (Preventers)
♦ Kuneida Aoi (uni)
* Cosplayer: Sarah
※ Gate4: Exit
Main Blog
the Lesser Generation
※ SideGate