Monday, March 28, 2011
Mass reminder.
Somehow... I think a bomb is ticking somewhere. Okay a bomb is always ticking, but they don't always pound into my ears.
I forgot to work on costumes the last time parents were away D=
Next chance, I have to at least finish Miaka. And make Ginchy's maille whenever I'm stoning at my fortress of solitude =A= It's so confusing OTL
Plus I'm supposed to knit some Griffindor scarves before DH part 2. CRAAAP.
Then there's the Eva-Rei hybrid thingy for cosfest. oh my. Blue PVC.... And the wig. Ack. Hows about I cheat and use Sai's blue wig? I think the colour will match blue PVC better. (screw ppl who are bent on accuracy, I'M SHALLOW!!!)
I will start drafting Rose's dress only after July, so that's free from my head.
The impending doom is this year's OA event, which is always close to EOY so it's got that ah!-i-can't-think-of-one-event-without-thinking-of-the-other feeling. I'm not sure how it's going to be structured... But one thing's for sure... SHOOT FIRST PLZ. Where the heck are we to find a make-shift bar? One day, I will attend an event strictly without photography in my head and just soak it in for what it is. It kind of bugs me when people (including myself) explain the ongoings of cosplay events as "congregate, pose, take pictures".
It bug the hell out of me. Come to an event to pose? That's just sad. We're supposed to be "socializing, sharing creativity, enjoy performances, and oh hey we happen to take a lot of pictures of each other too" or something like that. In the end, pictures do provide some satisfaction after the event. But the memorable events (to me) are when words are exchanged with strangers without awkwardness. That, and Kaname☆
Time Recorded: 6:01 PM
※ ※ ※ ※ ※ ※ ※ ※ ※ ※ ※ ※ ※ ※ ※ ※ ※
※Gate1: Enter
Nobody but myself is expected to come here.
All posts are cosplay related, hence not to be taken too seriously ;D
♦Bokura wa Ima no Naka de♦


※ Gate2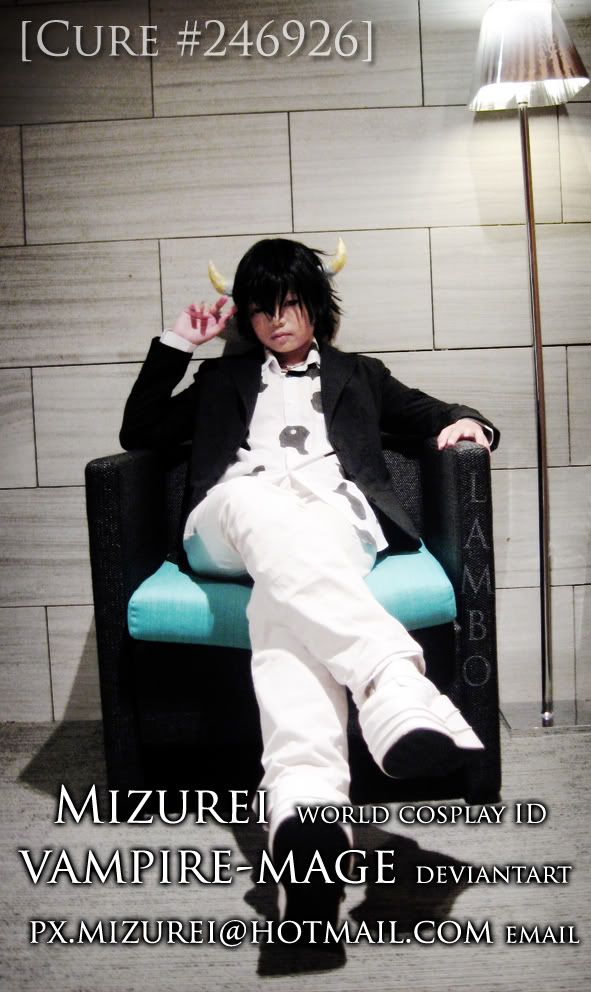 Mizurei is:
-short
-heavy
-ugly
-annoying
-sees light and darkness everywhere


※ Gate3
[☆]Ongoing Projects[☆]
♦ Miaka
♦ Hixar Fermi
♦ Alice Royal Suit
♦ Sugata
♦ Kagura
[★]Completed Projects[★]
[2007]
♦ Haku
[2008]
♦ Ema Skye
♦ Trucy Gramarye*
[2009]
♦ Meirin
♦ Natsuo
♦ Lucy*
♦ Void
♦ Belphegor
♦ Cheshire Cat
♦ Alice*
[2010]
♦ Lambo 15yrs old
♦ Fergus
♦ Cagalli GSD
♦ The Arrow*
♦ Mrs. Peacock
♦ Takiko
♦ Rook (OC)
♦ Queen*
[2011]
♦ The Little Prince
♦ Kunieda Aoi (hakama)
♦ Sirius Black
♦ Rose Sheedy
♦ Ginchiyo Tachibana
♦ Bartender (OC)
[2012]
♦ Tsunayoshi Sawada
♦ Cagalli GS
♦ Katsura Kotarou
♦ Kunieda Aoi (manga art ver)
♦ Lamia*
♦ Kanon
♦ Eva-chan
♦ Lan Fan
♦ May Chang*
♦ Spring (OC)
[2013]
♦ Katsura Kotarou (uni)
♦ Haru
♦ Katsura Kotarou (Benizakura Arc)
♦ Soujiro Seta
♦ Sasha Blouse
♦ Rico
♦ Christa*
♦ Cagalli GSD final plus
♦ Sasha Blouse (hunter)
[2014]
♦ Katsura Kotarou (Joui)
♦ Legolas Greenleaf (DoS)
[2015]
♦ Duo Maxwell (Preventers)
♦ Kuneida Aoi (uni)
* Cosplayer: Sarah
※ Gate4: Exit
Main Blog
the Lesser Generation
※ SideGate