Sunday, March 6, 2011
Comifest day 1
I did it~ I did it~ not... really... good... but wth, it happened, at least.
Luckily found the boots the day before.
Got 2 hours of sleep, and I only finished coat in the morning, and the shoulder brackets during lunchtime. Bwaaahahahha.
Forgot.... that I wanted to spike up the wig for him. pffffffffffffffft.
Met Aki and Fiona (who was there by accident), and later Yuu-chan at Esplanade Exchange's BK. Changed and off to event... They did highlight that it was a MINI event, but we're complaining anyway. Because of the Miku spam. The event itself wasn't as bad as complainers say... We only got asked to move once, and it was reasonable because we were blocking the display. Being sick of seeing Miku at every turn is a different thing. That, and we didn't get to bump into much peeps.
A few years ago, there were more wigless cosplays. But now that there's more resources, people are misusing them. hah~
Allen, The Little Prince, Gladys
Well I'm glad I get to cosplay again finally. And that some people actually know who The Little Prince is. We had a mini shoot at Esplanade before it rained.

That, on the next post.

Labels: event, the little prince
Time Recorded: 7:50 PM
※ ※ ※ ※ ※ ※ ※ ※ ※ ※ ※ ※ ※ ※ ※ ※ ※
※Gate1: Enter
Nobody but myself is expected to come here.
All posts are cosplay related, hence not to be taken too seriously ;D
♦Bokura wa Ima no Naka de♦


※ Gate2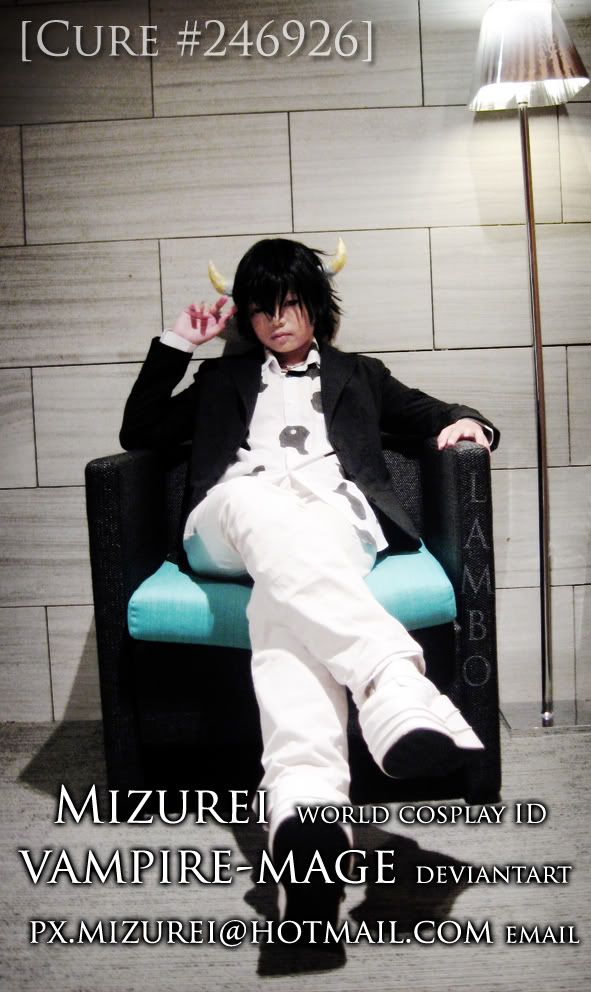 Mizurei is:
-short
-heavy
-ugly
-annoying
-sees light and darkness everywhere


※ Gate3
[☆]Ongoing Projects[☆]
♦ Miaka
♦ Hixar Fermi
♦ Alice Royal Suit
♦ Sugata
♦ Kagura
[★]Completed Projects[★]
[2007]
♦ Haku
[2008]
♦ Ema Skye
♦ Trucy Gramarye*
[2009]
♦ Meirin
♦ Natsuo
♦ Lucy*
♦ Void
♦ Belphegor
♦ Cheshire Cat
♦ Alice*
[2010]
♦ Lambo 15yrs old
♦ Fergus
♦ Cagalli GSD
♦ The Arrow*
♦ Mrs. Peacock
♦ Takiko
♦ Rook (OC)
♦ Queen*
[2011]
♦ The Little Prince
♦ Kunieda Aoi (hakama)
♦ Sirius Black
♦ Rose Sheedy
♦ Ginchiyo Tachibana
♦ Bartender (OC)
[2012]
♦ Tsunayoshi Sawada
♦ Cagalli GS
♦ Katsura Kotarou
♦ Kunieda Aoi (manga art ver)
♦ Lamia*
♦ Kanon
♦ Eva-chan
♦ Lan Fan
♦ May Chang*
♦ Spring (OC)
[2013]
♦ Katsura Kotarou (uni)
♦ Haru
♦ Katsura Kotarou (Benizakura Arc)
♦ Soujiro Seta
♦ Sasha Blouse
♦ Rico
♦ Christa*
♦ Cagalli GSD final plus
♦ Sasha Blouse (hunter)
[2014]
♦ Katsura Kotarou (Joui)
♦ Legolas Greenleaf (DoS)
[2015]
♦ Duo Maxwell (Preventers)
♦ Kuneida Aoi (uni)
* Cosplayer: Sarah
※ Gate4: Exit
Main Blog
the Lesser Generation
※ SideGate