Wednesday, February 10, 2010
lalalala~
Studying for tmr's test has led me here \(*o*)/
ah... regarding the ahou-baka shoot... it did not happen coz cosplay was put on hold for ahoudera... I should too, but how do you stop yourself from thinking about something =A= I have no supporting reason so my mind is running free. hahaha~
I miss chionging costumes TwT I'm excited to start on Cagalli's dress... and I'm keen on seeing some sort of improvement... must up XP!!! I keep falling into this manhole in crowded events. Re-realised how much I cosfucked Bel for AFA OTL....... nyp open house felt better.
I don't know how to redo bakaushi... Need to find the right tape... damn scars =A=
I think HP must be pushed to 2011 coz sai having O's whutnot. pfft.
And I've had this urge to cos bluebell but act like magma-dude. lawl. but long wig is $$ and hell to maintain prz  ̄▽ ̄
Another "event" has cropped up and I wonder if Chess Empire can be incorporated into it =3
Might be too much of a rush thou. bahaha. Top priority for the event is to be comfortable and have fun!!
Cash is in scraps lately o_o............. it's because I'm not getting paid like last sem =A=;;
*gasp* I owe Yuu-chan moolah.
And the thing that's been disturbing me greatgreatgreatly is graduation!!! (how many bloody times have I complained about it?! it's never enough) The inability to see past that event is so irritating that I wish to summon juunen bazooka for real. My cosplay plans are just floating in primordial soup, unable to anchor itself to reality because of it. AAAAARGGGGHHH!!! foresight is failing!!
Time Recorded: 12:11 AM
※ ※ ※ ※ ※ ※ ※ ※ ※ ※ ※ ※ ※ ※ ※ ※ ※
※Gate1: Enter
Nobody but myself is expected to come here.
All posts are cosplay related, hence not to be taken too seriously ;D
♦Bokura wa Ima no Naka de♦


※ Gate2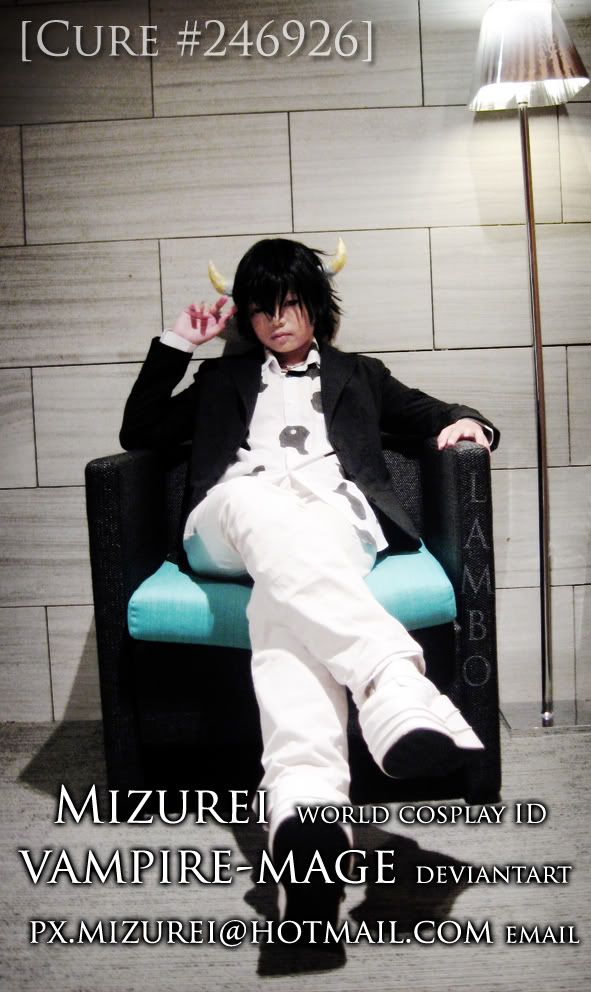 Mizurei is:
-short
-heavy
-ugly
-annoying
-sees light and darkness everywhere


※ Gate3
[☆]Ongoing Projects[☆]
♦ Miaka
♦ Hixar Fermi
♦ Alice Royal Suit
♦ Sugata
♦ Kagura
[★]Completed Projects[★]
[2007]
♦ Haku
[2008]
♦ Ema Skye
♦ Trucy Gramarye*
[2009]
♦ Meirin
♦ Natsuo
♦ Lucy*
♦ Void
♦ Belphegor
♦ Cheshire Cat
♦ Alice*
[2010]
♦ Lambo 15yrs old
♦ Fergus
♦ Cagalli GSD
♦ The Arrow*
♦ Mrs. Peacock
♦ Takiko
♦ Rook (OC)
♦ Queen*
[2011]
♦ The Little Prince
♦ Kunieda Aoi (hakama)
♦ Sirius Black
♦ Rose Sheedy
♦ Ginchiyo Tachibana
♦ Bartender (OC)
[2012]
♦ Tsunayoshi Sawada
♦ Cagalli GS
♦ Katsura Kotarou
♦ Kunieda Aoi (manga art ver)
♦ Lamia*
♦ Kanon
♦ Eva-chan
♦ Lan Fan
♦ May Chang*
♦ Spring (OC)
[2013]
♦ Katsura Kotarou (uni)
♦ Haru
♦ Katsura Kotarou (Benizakura Arc)
♦ Soujiro Seta
♦ Sasha Blouse
♦ Rico
♦ Christa*
♦ Cagalli GSD final plus
♦ Sasha Blouse (hunter)
[2014]
♦ Katsura Kotarou (Joui)
♦ Legolas Greenleaf (DoS)
[2015]
♦ Duo Maxwell (Preventers)
♦ Kuneida Aoi (uni)
* Cosplayer: Sarah
※ Gate4: Exit
Main Blog
the Lesser Generation
※ SideGate